These are the books we have produced ourselves as authors. Enjoy!
Serena the Sailboat and her friends!
Cuddle up as you hear tales of the sea and meet Serena the Sailboat, Danny the Dolphin, and Simon the Seagull.

This series of three books, with the title book available in Spanish, will enchant sea lovers and land lovers alike!

With beautiful illustrations and stories that keeps you turning pages, your child will love these books!
You can practically hear the whoosh of the ocean waves and hear the seagulls calling out as Serena the Sailboat and her loyal companions, Danny the Dolphin and Simon the Seagull, sail out of the marina and onto the big blue sea.
Serena, Danny, and Simon set out on a beautiful day. It isn't long before misadventure strikes, and Serena is in trouble! Read how Carl the Crab and his crab army come to the rescue! This story teaches about friendship, gratefulness, and helping a friend in trouble.
In this third book of the Merry Marina series, the trusty trio meet a little toy boat who has drifted out into open waters and can't get home! Your child will not only enjoy the beautiful, bold illustrations and the rhyming cadence, but also will learn about how we should help others.
Prácticamente puedes escuchar el silbido de las olas del océano y el graznido de las gaviotas mientras Serena la Barquita y sus leales compañeros, Daniel el Delfín y Gimena la Gaviota, navegan del puerto hacia el gran mar azul.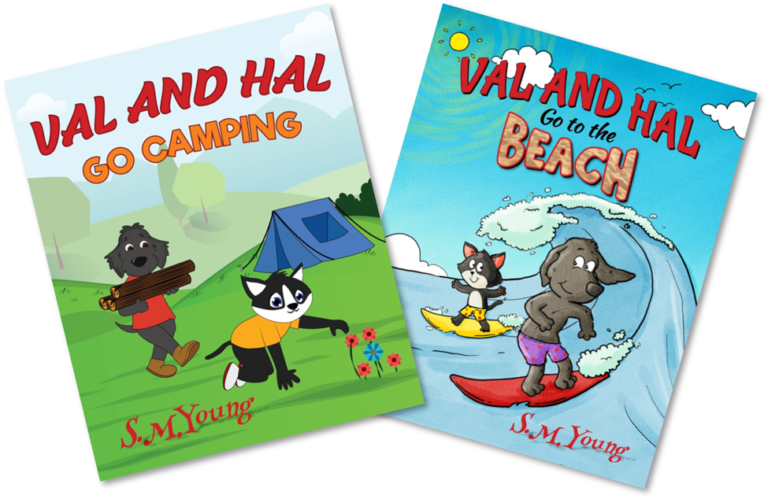 THE ADVENTURES OF VAL AND HAL SERIES
A labradoodle and tuxedo kitten!
Meet Val & Hal, a big black labradoodle and his tuxedo kitten friend, who are the best of friends!

As they enjoy their camping and beach adventures, Hal gets into trouble with the simplest of tasks.

COMING SOON: Val and Hal Go to the Moon!
Your child will love hearing about Val and Hal's camping trip. Find out how Hal gets into a clumsy mess on every page while Val patiently show her the best way to get it done. The story winds down at the end as they go to sleep in their tent. A perfect bedtime story!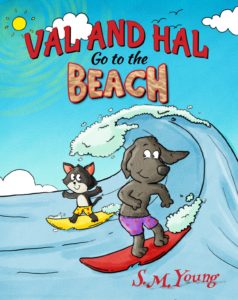 Val and Hal love the beach and the creatures they meet there! Hal's clumsiness and Val's steady patience assures that your little ones will want to return to this book again and again. The scenic ending settles them down for a good night's sleep.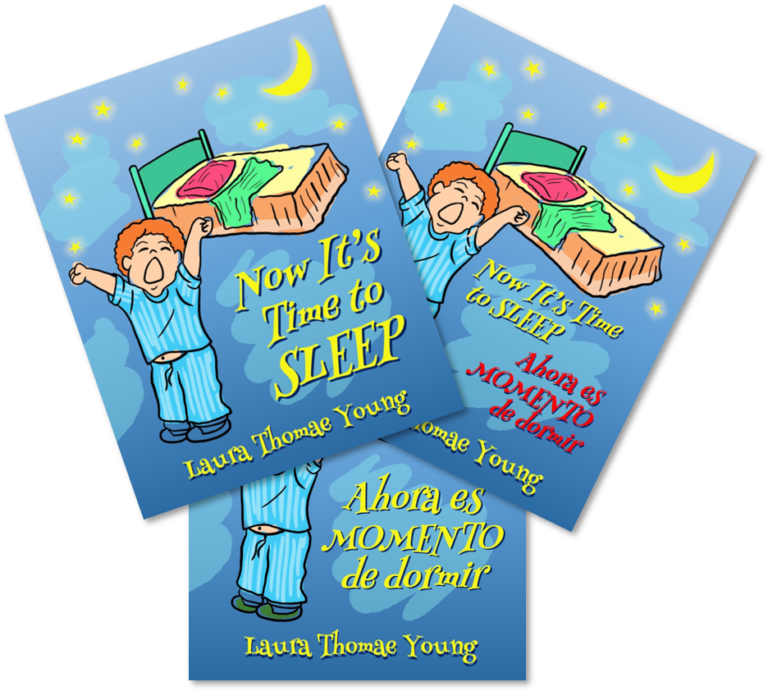 THE NOW IT'S TIME TO SLEEP COLLECTION
Available in english, spanish, and bilingual versions!
Now It's Time to Sleep is a sweet bedtime story book for sleepy little ones, ages 0-5. Your little sleepyhead will enjoy listening to this happy early reader book with its rhymes and playful cadence.
Written in poetic verse, the story tells of a busy day and its many activities.
You spied a bird, it flew away, and now it's time to sleep.
You read a book, you played with toys, and now it's time to sleep.
This sleepy time book will be a family favorite.
Recuenta un día ocupado con muchas actividades, con versos poéticos tales como:
Espiaste a un pájaro, salió volando, y ahora es momento de dormir.
Leiste un libro, jugaste con juguetes, y ahora es momento de dormir.
Este libro para dormir será un favorito de la familia.
SPECIAL BILINGUAL VERSION – English and Spanish on the same page!
VERSIÓN BILINGÜE ESPECIAL – ¡Inglés y español en la misma página!
KITTY, KITTY, WHERE ARE YOU?
Kitty, Kitty, Where are You? is a delightful book all animal lovers will enjoy! Kitty is hiding, sleeping, and generally getting into mischief, but can always be found if we are looking! Join the diverse children and kitties in the game calling out, "Kitty, Kitty, where are you?"
DON'T MISS A SINGLE REVIEW!
Click the link below and we'll let you know as soon as a new book review hits the site!