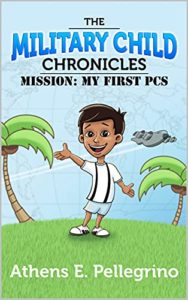 What a great book for kids who are moving due to mom or dad's military assignment. I loved how the author has woven in Permanent Change of Station (PCS) all throughout the book, making the PCS stand for many many things! Very cute idea and it works well.
The story revolves around a little boy, Atticus, who discovers he and his family are moving to Florida, and he isn't too sure he wants to go. The story entails packing and unpacking, going to a new school, a road trip that includes a campout, and falling asleep in the car to wake up to the new location. When Atticus arrives in Florida, he is introduced to a new school and quickly makes friends.
The story promotes a positive attitude toward a big change. It also has some great "Parent's Moving Tips" woven throughout. The illustrations are wonderful. It also demonstrates diversity – something I really like to see in books – with a mixed-race family, and diversity among the new friends Atticus meets at the school. Great book and I highly recommend!